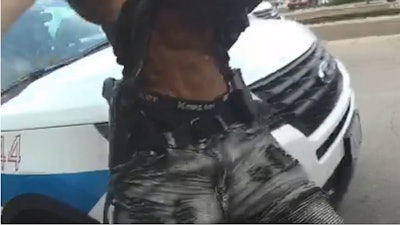 Chicago FOP President Kevin Graham said in a blog post that "activist, one-sided" news media is "ramping up every angle they could muster to paint" the police shooting of Harith Augustus as "unjustified," according to the Chicago Sun Times.
"This shooting by the police was entirely justified," Graham reportedly wrote. "The offender refused to obey the lawful commands of the police."
Graham wrote further, "Media bias, the intense apathy toward the police, makes policing almost impossible in Chicago. Every officer knows that even when he or she acts appropriately, there is a band of reporters aching to destroy their reputations and denigrate their actions."
In an unprecedented move, CPD released a portion of body camera footage that recorded the fatal police shooting of the 37-year-old man less than a day after the incident occurred.
The footage appears to show Augustus move his hand toward his waistband, where there appears to be a gun and magazine are tucked into his pants.
The shooting sparked protests and clashes with police in the South Side of Chicago over the weekend.