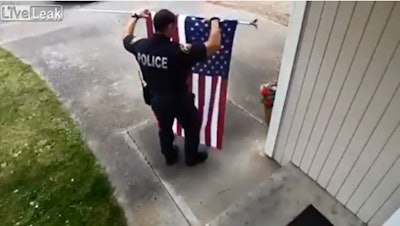 VIDEO: Washington Officer Picks American Flag Up from the Ground
A Marysville (WA) police officer was on patrol on the Fourth of July and noticed an American Flag that had fallen to the ground.
Surveillance video shows the officer walking up the driveway of a residence, picking the flag off the ground, and attempting to secure it in its original position. The mount, however, was broken so the officer decided to roll up the flag and place it gently beside the home.
The video of this patriotic act quickly "went viral" even gaining the attention of the president.
Donald Trump shared the video on Instagram and wrote: "Beautiful — thank you to our GREAT law enforcement officers, for all you do, 24/7/365!"