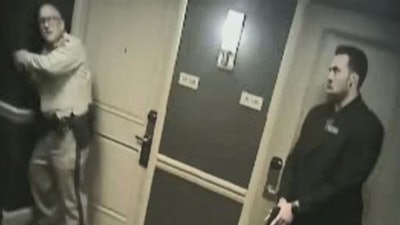 VIDEO: Las Vegas Officer Under Investigation for Response to Concert Shooting
A veteran police officer is being accused of standing idle for several minutes last October as the Las Vegas gunman slaughtered dozens of concertgoers from a perch one floor up, and now that his actions inside a hallway of the Mandalay Bay Hotel and Casino are being reviewed by the Metropolitan Police Department.
The investigation into Cordell Hendrex, and the rest of the city's police department, comes as Las Vegas prepares to release its ninth batch of footage and records related to the shooting, which left 58 dead and hundreds injured, Fox News reports.
"Every officer's actions that night are being evaluated," police spokesperson Carla Alston told the Las Vegas Review-Journal last week.
Video footage showed Hendrex leading a police trainee and three Mandalay Bay security guards to the sounds of gunfire coming from the hotel's 32nd floor, where Stephen Paddock set up his sniper post, but not confronting the shooter.
In body cam videos released last week, Hendrex is seen directing the group, with their handguns drawn, on the 31st floor.
"Holy s---. That's rapid fire," Hendrex is heard saying amid the sounds of Paddock unloading his rifle. "Oh my God," he later says.
"I know I hesitated and remember being terrified with fear and I think that I froze right there in the middle of the hall for how long I can't say," Hendrex later wrote in a police report that was made public in May.
"I knew that if I could come at the shooter or shooters from another side or a different angle then we could surround and contain them from escape and keep them from hurting more victims," he added, while noting he forgot to turn his body camera on until later in the shooting.
"I could feel my mouth was extremely dry and cotton mouth and I had no spit I also felt myself starting to get tunnel vision and I can remember concentrating on tactical breathing to calm myself," he said.