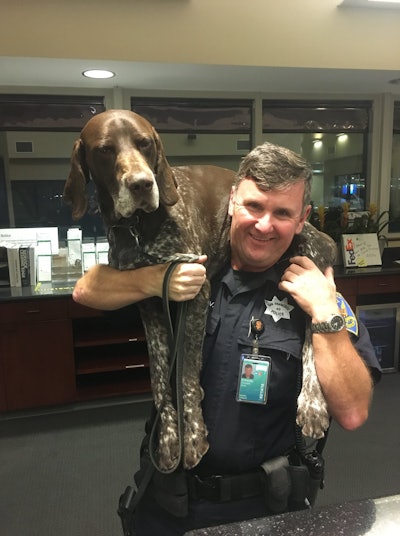 The San Francisco Police Officers Association posted on Facebook that the recently retired K-9 separated from his handler will be reunited with the officer, who also recently retired.
Officer Val Kirwan said that the plan was to retire together and head home on Friday, but that he was ordered to deliver Baro to a Pet Hospital for boarding.
While Kirwan was making non-stop phone calls to liberate his beloved partner from captivity, the SFPOA waged a campaign on social media, encouraging members and citizens alike to make their opinions on the matter known.
Whether it was the phone calls or the calls made on social media remains unknown, but Kirwan and Baro left the SFPOA Offices together on Tuesday.
"This would not have happened without the tremendous support of our POA followers on social media and in our community who worked with us to make this happen," SFPOA said on Facebook. "We cannot thank you enough."
The SFPOA posted to Facebook later in the day, "Many thanks to our community partners who helped us convince the department that this was the right thing to do. Your support helped make this happen. Thank you."
#baro the police dog reunites with Officer Val Kirwan after they both retire. Kirwan had expected to take Baro with him, but federal red tape got in the way. Happy ending! #abc7now pic.twitter.com/Hk4cEPvpuT

— Wayne Freedman (@WayneFreedman) July 2, 2018