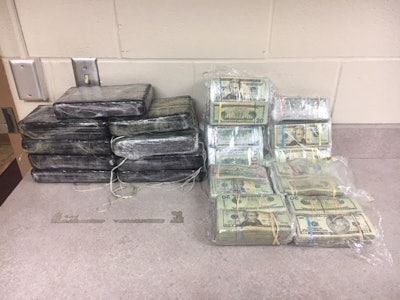 Ohio Attorney General Mike DeWine, Montgomery County Sheriff Phil Plummer, and U.S. Department of Homeland Security Investigations Special Agent in Charge Steve Francis announced on Wednesday the seizure of approximately 20 pounds of fentanyl.
The officials said that the volume of drugs had "the capability of killing more than four million people," according to the joint press release posted to the AG's website.
In addition to the fentanyl a "large amount of marijuana and more than $100,000 in cash" were also seized.
"We are certain that this investigation has saved lives by stopping this poison from getting to the streets and into the hands of those fighting addiction," said Ohio Attorney General DeWine in a written statement. "Each day, my office and law enforcement agencies across the state are fighting hard against the drug epidemic, and we must continue to press forward in the battle against the drug cartels."
"This is another example of the ongoing battle against drug cartels bringing in illegal drugs into our communities. We recognize collaboration through federal, state and local partnerships are necessary to have a significant impact on the criminal organizations in Montgomery County and the Miami Valley," said Montgomery County Sheriff Phil Plummer.
Four suspects were arrested and are now being held in the Montgomery County Jail on drug trafficking charges.