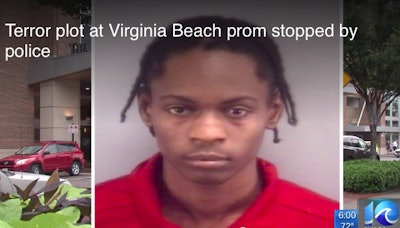 VIDEO: Virginia Beach Officers Foil High School Dance Shooting Plot
Two people have been arrested and charged with conspiring to commit a terroristic act at Bayside High School's prom over the weekend at a Virginia Beach hotel.
According to Police Chief Jim Cervera, extra security was in place for the event after the department got word that two people not associated with the school tried buying tickets to prom.
Police and school district officials investigated the matter and say that Michael Coleman, 18, had made threats against specific people within Bayside High's school zone.
Police received word that Coleman was staying at The Westin on Saturday evening. When officers tried stopping him outside the hotel, they say he took off running.
Coleman dropped a 9-milimeter handgun, but police say he managed to escape.
A search of his hotel room led officers to his 17-year-old alleged accomplice and a a .45 caliber rifle with a fully loaded magazine.
The teen was arrested and charged with conspiracy to commit a terrorist act and possession of a firearm by a juvenile.
Coleman was arrested by police on Monday, WATE reports.