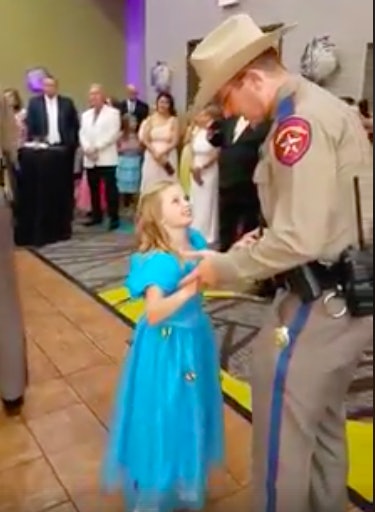 VIDEO: Texas Troopers Dance with Daughters to Raise Awareness of Cancer
A group of Texas Department of Public Safety troopers recently danced with their daughters in a viral video to raise awareness of a cancer that killed a fellow trooper's daughter.
Jade Bridier died of Diffuse Intrinsic Pontine Glioma (DIPG), a rare form of brain cancer, KCBD reports.
Jade passed away on Aug. 29, 2016. She was 4 years old.
After Jade's death, her mother, Vicky, resigned from her position as Chief Operating Officer at College Station Medical to make spreading awareness of DIPG her job full time.
Jade's father is a Texas DPS trooper, so a video has gone viral of troopers dancing with their daughters. The video is of an event held on May 20 to raise awareness of the cancer.