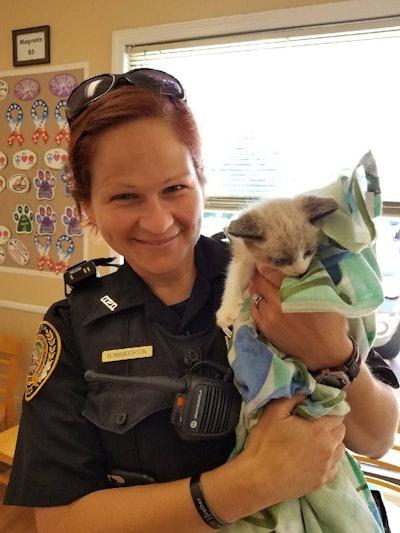 Duluth (GA) Police Officer Heather McNaughton recently came to the aid of a woman and child in need… of a ride to the veterinarian's office to pick up their kitten. According to a Facebook post by the Duluth PD, Officer McNaughton came upon a woman whose vehicle had broken down and had begun blocking rush hour traffic.
"Officer McNaughton was able to get the vehicle off the road to help the flow of traffic," the Facebook post read.
"Afterwards, it was obvious that the woman (with a child) was not having the best day. The woman was trying to pick up this kitten from the vet before late fees were assessed, so Officer McNaughton gave the family a courtesy ride to the vet," the department said.
The woman was able to get the kitten in time, but was then confronted with a new problem — she and her child (and their fuzzy little companion) had no way to get from the vet to their home.
Consequently, Officer McNaughton drove the trio home.