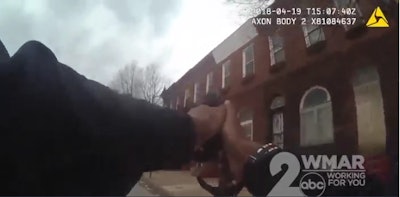 Video: Baltimore Officer Runs to the Sound of the Guns
Baltimore Police have released body-worn camera video of an April 19 incident in which an officer — previously engaged in a landlord-tenant dispute — heard a hail of gunfire nearby. The video shows the officer charging toward the sound of the guns, and upon coming upon an armed subject, placing him peacefully under arrest.
Upon finding the subject, the officer can be heard saying, "Put the gun down! Put it down! Get on the ground, now! Roll over! Roll the f*** over! Get on the ground!"
At the scene, two victims — a 30-year-old man and a 69-year-old man — bled from multiple gunshot wounds, according to WBAL-TV. Both men were taken to a hospital, where one of the men succumbed to his injuries.
A Baltimore County Police Department spokesman said, "The officer didn't hesitate at all to run right onto danger. The officer was able to take the suspect into custody without further incident. His performance was exemplary and his decisiveness ended an immediate threat."
The 17-year-old suspect — identified as Eric Gilyard — has been charged with first- and second-degree murder, first- and second-degree attempted murder, as well as related firearms charges.