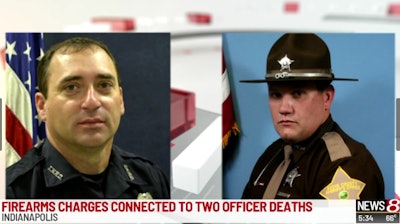 VIDEO: Federal Gun Charges for 3 Associated with Indiana Officers' Deaths
Three people were charged Monday for roles in illegally purchased weapons that were used in the shootings of two Indiana officers, according to WISH-TV in Indianapolis.
United States Attorney Josh Minkler formally announced the charges against three individuals who are believed to have illegally purchased firearms that were used in the fatal shootings of Officer Robert Pitts, a 16-year veteran of the Terre Haute (IN) Police Department, and Deputy Jacob Pickett, who had served with the Boone County (IN) Sheriff's Office for three years.
Charges include making false statements when acquiring a firearm, conspiracy to make false statements when purchasing a firearm, possession of a firearm by an unlawful drug user, and selling/giving a firearm to an unlawful drug user.
"When guns are purchased or possessed illegally, it is never for a good reason and the results are often tragic," said Minkler. "We all continue to mourn the loss of Deputy Pickett and Officer Pitts and law enforcement must hold all those who contributed to their senseless death accountable. Those who lie and buy guns will be prosecuted in federal court."