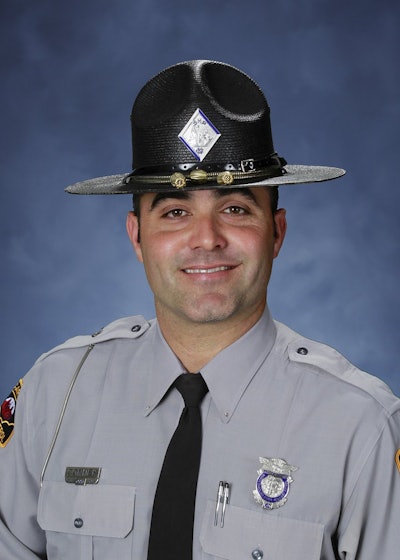 A North Carolina Highway Patrol trooper was shot and killed early Wednesday morning at a traffic stop. A suspect is in custody.
The Highway Patrol says Trooper Kevin Conner stopped a white GMC pickup truck on US701 in Columbus County at approximately 12:15 Wednesday morning. The driver of the pickup reportedly pulled over onto the shoulder and the trooper made his initial approach. The driver of the pickup then fired several shots, striking the trooper.
After shooting the trooper, the driver fled the scene, traveling into Fair Bluff, the Highway Patrol says in a statement. Local police attempted to stop the vehicle and the driver fled, initiating a brief pursuit. The driver of the pickup then fled on foot after his vehicle became disabled while attempting to cross over a railroad crossing. After an extensive search, authorities located the suspected driver and placed him in custody without incident. He was transported to the Columbus County Jail by investigators.
Conner was an 11-year veteran of the Highway Patrol, assigned to Troop B, District 5 (Columbus County).
"The Highway Patrol family is mourning the loss of a hero and will forever be changed by the tragic events that have occurred", said Colonel Glenn McNeill Jr., commander of the State Highway Patrol. "We ask everyone to please keep Trooper Conner's family and all who knew him in your thoughts and prayers."
The suspect has not been identified. Charges are pending a further investigation, the Highway Patrol says.