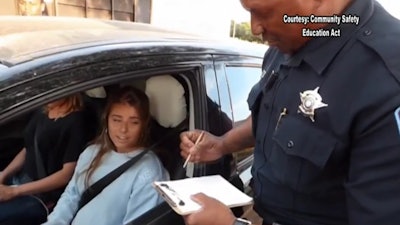 All high school students in Texas, beginning with incoming freshman, must now watch a video, titled "Flashing Lights," to teach them how to safely interact with an officer during traffic stops. The requirement is part of the Community Safety Education Act.
"It's important for them to understand and see where we're coming from and what would constitute a safety issue with us so they can prevent from doing that," Deputy Jake Wilkins, School Resource Officer at River Road High School, told KFDA TV.
The school says this isn't just textbook work, it's a life skill students may need for years to come.
"A lot of them, when they get pulled over for the first time, it might be their first encounter with a peace officer. They don't know what to expect, they don't know how to act," said Rachel Freeman, assistant principal at River Road High School.
Students and law enforcement aren't the only ones the state hopes will benefit from this training, new drivers will be taught this as well.