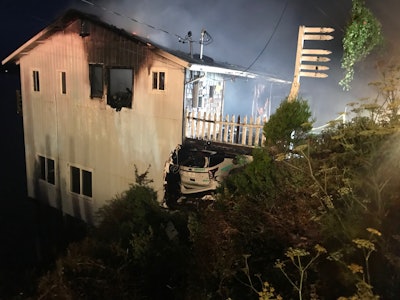 A deputy's vehicle crashed into a house and burst into flames during a high-speed chase in Sonoma County, CA, early Sunday morning, reports ABC 10.
It happened in Bodega Bay, CA, around 5 a.m. According to a report, the deputy was searching for suspects involved in recent thefts in the area. When the deputy spotted a vehicle believed to be involved in the crimes, authorities say the driver took off, reaching speeds of up to 100 miles per hour during the pursuit.
The deputy reportedly lost control of his vehicle and crashed into a house on State Highway 1. Luckily, the deputy was able to get out of his vehicle with non-life-threatening injuries.
Shortly after the crash, the deputy's vehicle burst into flames and engulfed the house. The injured deputy and a second deputy at the scene were able to get all the people inside the home out safely.