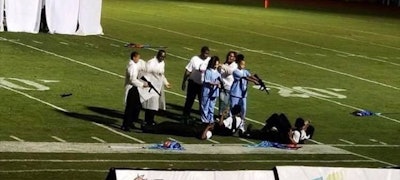 In the wake of uproar over a controversial performance in which the Forest Hills (MS) High School marching band was seen simulating the murder of police officers, the band has reportedly been suspended from further activities by the Mississippi High School Sports Activities Association, according to the Clarion Ledger.
The controversial halftime performance by the Forest Hill band occurred in Brookhaven just days after two Brookhaven police officers were killed in the line of duty while responding to a shots-fired call.
Jackson Public Schools Superintendent Errick Greene—who previously apologized for the performance, deeming it 'insensitive'—reportedly intends to appeal the decision, according to WAPT-TV.
Jackson City Councilman Aaron Banks—who represents the Ward where Forest Hill High School is located—said, "We all understand the bad timing for the field show considering what happened to the law enforcement officers there in Brookhaven. However, we are against any punishment toward our children" according to WAPT-TV.
"Let's be clear," Banks reportedly said, "the band students of Forest Hill should not be punished due to a bad decision made by a teacher."