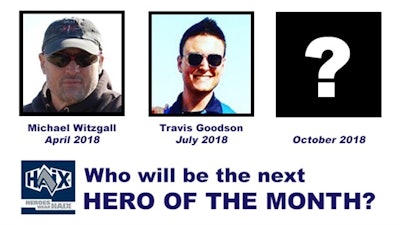 What do Ptl. Travis Goodson of the Albany (GA) Police Department and former Dallas SWAT officer Michael Witzgall have in common other than service as law enforcement officers? They both have been honored as the HAIX Hero of the Month. Goodson was the July HAIX Hero and Witzgall was the April HAIX Hero.
Now it's time for you to nominate the October HAIX Hero of the Month. Goodson was honored for his community service. Witzgall was honored for his work training fellow officers. Do you know officers who are performing equally heroic acts? If so, submit their nomination for the next HAIX Hero of the Month.
The HAIX Hero of the Month program is a feature on the Facebook Page of POLICE Magazine. Fellow officers, supervisors, community members in the jurisdiction the officer serves, friends, and family members can nominate officers to be honored. A panel of judges will then consider each entry and name three officers to compete for HAIX Hero of the Month honors. Each officer selected will have his or her story featured on POLICE Magazine's Facebook page where people who come to the page can register "Likes." Each officer's story will be featured on the page for one week. At the end of the month, the officer with the most "Likes" will be named HAIX Hero of the Month. HAIX will award a pair of boots to the HAIX Hero of the Month.
The first nominee was named Friday October 12. HAIX is looking for two more heroes to consider for October honors. Click here and nominate your hero today.