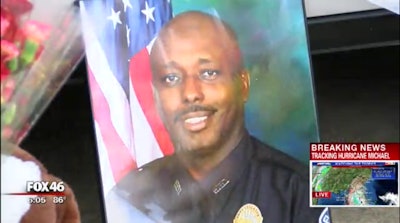 Police and civilians gathered together on Monday for the funeral services of Sergeant Terrence Carraway, who was shot and killed last week in an ambush that left six other officers injured.
According to WJZY-TV, Florence Mayor Stephen Wukela said at the ceremony, "We grieve together today—a community in pain."
"He gave his life just like he lived it—as a hero," Florence County Police Chief Allen Heidler said.
Authorities say Carraway was killed—and six other officers were wounded—by 74-year-old Frederick Hopkins after Florence County deputies coming for a prearranged interview with his 28-year-old son about possible sex crime charges involving a child, according to the Charlotte Observer.
Sergeant Carraway had served with the Florence Police Department for 30 years.