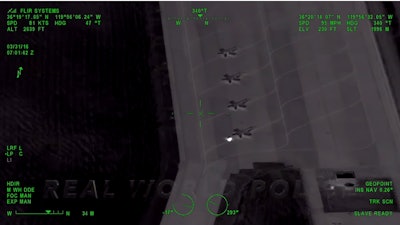 VIDEO: California Highway Patrol Release FLIR Video of 2016 Pursuit Ending at Naval Air Station Lemoore"
A 2016 police pursuit that ended at Naval Air Station Lemoore was captured on FLIR video that was recently released and posted on YouTube. In the video, the driver of a Jeep Grand Cherokee being pursued by the California Highway Patrol crashed into the tail end of an F/A-18 airplane at the military installation.
The collision resulted in the vehicle striking part of the aircraft's horizontal stabilizer, instantly killing the passenger of the vehicle, and mortally wounding the driver.
The female passenger of the vehicle reportedly died at the scene, and the driver later died at Community Regional Medical Center in Fresno.