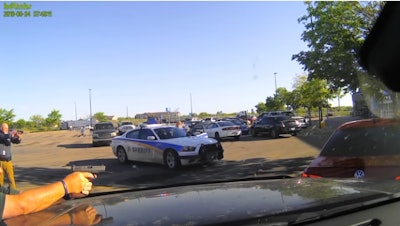 Morgan County, CO, Sheriff Jim Crone has released a video that shows him and several other law enforcement officers shooting a suspect in two fatal New Mexico stabbings after the man allegedly disobeyed orders not to move and stepped out of his car holding a knife while raising his hands above his head.
Crone, who was among those who fired shots in a Fort Morgan Walmart parking lot on May 24, said he released the graphic video, depicting the shooting of homicide suspect Dustin Brian Montano, in the interest of full disclosure, reports the Denver Post.
Undersheriff Dave Martin also fired shots.
In a news release, Crone said they had no choice but to shoot.
"Prior to May 24th, Undersheriff Martin and myself, in our 50 years of combined law enforcement experience, have been involved in many armed confrontations over the years, and only one of those resulted in deadly force being used (I shot a man who stabbed me in 1987)," Crone wrote. "However, when confronting a man who was a suspect in a homicide, was presumably armed and dangerous, and in a conscious effort to disregard commands and come out of the car aggressively with a knife (which we initially saw as a handgun), the suspect left us with little choice."
Morgan County District Attorney Brittny Lewton determined on Sept. 7 that deadly force under the circumstances was justified.