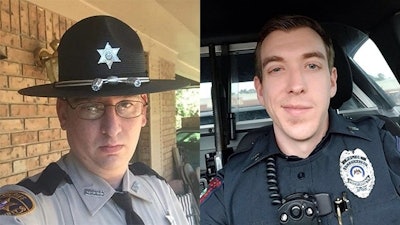 Two Brookhaven, MS, police officers were shot and killed Saturday morning. A suspect was wounded and is in custody.
The Brookhaven Police Department received a call at about 5 a.m. from someone who reported that shots were fired, said Warren Strain, spokesman with the Mississippi Department of Public Safety.
"Officers responded, there was an exchange of gunfire and two officers were mortally wounded," Strain told WAPT. "The suspect was wounded and he's been transported to a Jackson hospital where he's undergoing treatment and is in custody."
Patrolman James White, 35, and Cpl. Zach Moak, 31, were both taken to Kings Daughter's Medical Center, where they were pronounced dead, Strain said. White was hired by the Brookhaven Police Department in June 2015, but had worked there previously and then returned, authorities said. Moak was also hired in 2015 and had recently been promoted to corporal, authorities said.
Marquis Flowers, 25, of Brookhaven, was identified as the suspect, Strain said. Flowers' condition was not released.