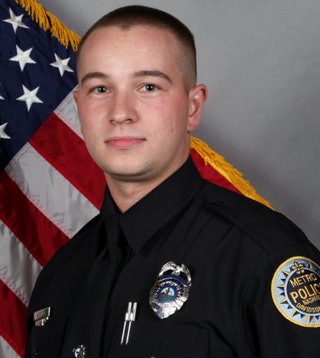 A Metro Nashville Police officer charged with criminal homicide in the shooting death of a man has turned himself in, reports WZTV.
Nashville Judge Michael F. Mondelli found probable cause on Thursday morning against Officer Andrew Delke in the deadly shooting of Daniel Hambrick.
Delke was booked and had bond set at $25,000. It has already been made and Delke was expected to be released the same afternoon. Delke, who had been working a desk job with Metro Police, has been decommissioned.
Prosecutors for D.A. Glenn Funk sought the charge in the wake of Hambrick's fatal shooting by Delke in July. The shooting had drawn scrutiny after Hambrick was reportedly shot while running away from Delke following a traffic stop. The affidavit charging Delke with homicide details a report by the Tennessee Bureau of Investigations which states Hambrick was shot four times.
The move is a reversal of a magistrate in Nashville the very same morning, who ruled that there wasn't enough evidence to charge Delke with homicide.