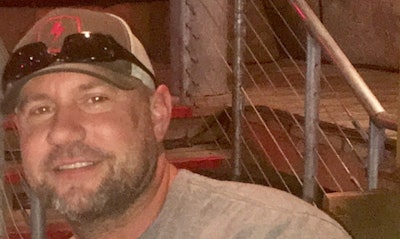 Undercover Fort Worth (TX) Police Officer Garrett Hull who was shot just after midnight Friday while working with a robbery unit died Saturday.
Fort Worth Police Chief Joel Fitzgerald along with Fort Worth Mayor Betsy Price and several members of the Fort Worth Police Department announced the news just after midnight Saturday morning — just about 24 hours after Hull was shot during a confrontation with a group of armed robbery suspects.
"I regret that I have to speak to you all this evening," began Fitzgerald. "I am even more dismayed by the fact that I have to announce that at 21:40 hours Police Officer Garrett Hull passed away. We've lost a true hero; someone who has dedicated more than one tour of service to this great city and was senselessly killed by three known criminals — two of which are in custody now."
According to police, officers had a group of suspects under surveillance early Friday morning at the bar when the suspects actually committed a robbery, CBS News reports.
When the suspects ran out of the bar uniformed officers were waiting, and helped the undercover officers stop the robbers as they tried to get into an SUV. It was then that one of the suspects, later identified as Dacion Steptoe, opened fire. Steptoe reportedly hit Hull, and Hull's fellow officers returned fire, killing Steptoe. Two other suspects are in custody.
Fitzgerald said that Hull was an organ donor. "We will see him prolong the life of other folks that potentially could live a long and prosperous life because of the sacrifice that he made."