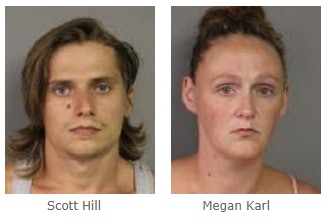 The New York State Police issued a statement detailing a traffic stop during which a 3-year-old child handed a trooper a bag of marijuana.
"The trooper had initiated the traffic stop on Route 32 in New Scotland," the statement said. "The driver was found with an ashtray containing the butt ends of several marijuana cigarettes."
One trooper interviewed the driver outside the car, while a second checked on the wellbeing of the 3-year-old girl in the back seat—who was reportedly not in a proper child safety restraint.
"The little girl then reached under the front seat and retrieved a zippered pouch. She opened it and held it up, so the trooper could see the contents. The pouch contained a bag of marijuana and a metal grinding device and smoking pipe, both containing the drug," State Police said.
The driver—identified as 26-year-old Scott Hill—and his passenger—identified as 26-year-old Megan Karl—were arrested for Endangering the Welfare of a Child. Hill was also charged with Unlawful Possession of Marihuana.
The little girl was turned over to relatives and Albany County.