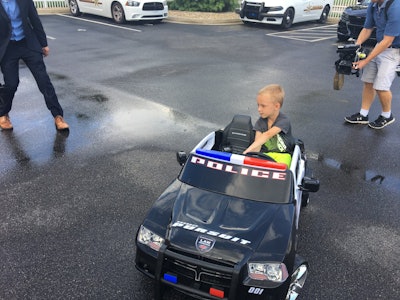 The Edinburgh Police Department, Bartholomew County Sheriff's Office, and Stinesville Police Department surprised a heartbroken five-year-old boy with a new electric police car after his was stolen.
Conner Burton had his miniature motorized police vehicle—which was a special birthday gift from his mother—stolen from a local gas station, so the local police agencies banded together to get him a replacement.
Edinburgh PD posted on Facebook that the agency was "proud to be a part of the presentation of a new car to Conner Burton today whose car was stolen a couple of weeks ago."
The department added, "Drive safely young man!"