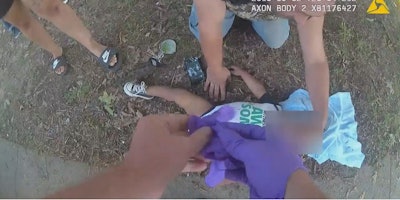 A Jonesboro, AR, infant is fighting for his life after being struck by a car this weekend. That fight may have ended days ago had it not been for the actions of a Jonesboro police officer.
The little boy was playing in his yard and in a split second got away from his mother and ran out to the road. That's when a car hit the baby.
Officer Keith Baggett was dispatched to the 1-year-old's home Saturday. "I did a quick assessment on the child and determined he was not breathing and did not have a pulse, so I immediately began CPR," said Baggett.
It was the officer's first time to perform CPR on a baby in his career.
"I was told sometime in transit to the hospital or after he arrived at the hospital they were able to resuscitate him," said Baggett.