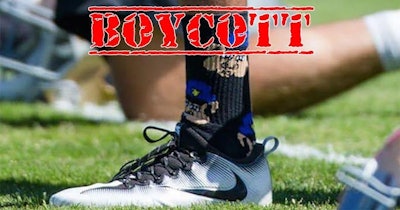 The pro-police organization Blue Lives Matter has called for a boycott of Nike over the company's announcement that it is launching an ad campaign featuring anti-police activist and former San Francisco 49ers quarterback Colin Kaepernick.
Kaepernick, who initiated the kneeling protest during the National Anthem before NFL games as a reaction to what he calls "brutality" by law enforcement officers against African-American suspects, is featured in a marketing campaign with the slogan: "Believe in something. Even if it means sacrificing everything." The ad references the belief that the protests, not Kaepernick's mediocre performance on the field, resulted in his unemployment. He is suing the NFL for collusion.
Many Americans who own Nike products have been burning or otherwise destroying them or giving them away in response to the announced ad campaign. People also responded angrily on social media with images of flag-covered coffins of fallen officers and military personnel representing real sacrifice vs. Kaepernick's career woes.
Nike stock fell a little more than 3% in trading Tuesday.
"The choice of Colin Kaepernick by Nike to be 'the Face' of their 30th Anniversary Campaign is an affront to every American law enforcement officer," Blue Lives Matter spokesman Randy Sutton said.
"Nike's pandering to Kaepernick's brand of politically correct hate mongering against those who serve this nation behind a badge and the disrespect he has shown to the symbols of love of our country reveals how corrupt Nike has become," Sutton added. "When an organization is more concerned with profits than with the values of justice and service that thousands have given their lives to preserve, they reveal what they truly stand for… greed and dishonor."
Nike makes a wide variety of athletic apparel, footwear, and gear, including NFL jerseys and most NFL-sanctioned apparel for fans. The company also owns the Converse brand of footwear.