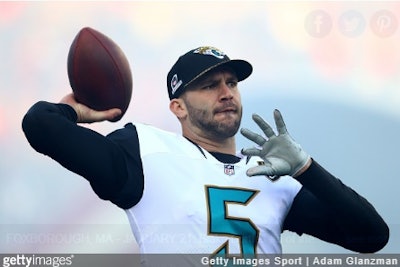 Quarterback for the Jacksonville Jaguars, Blake Bortles, bought police officers meals after they were tasked with responding to the Sunday shooting at an E-sports tournament that killed three, including the shooter, and wounded.
Bortles had his foundation deliver meals to the police department and penned a handwritten note thanking the officers.
"Thank you for everything that you do! Your service today and every day is greatly appreciated," Bortles wrote.
Big shout out to Blake Bortles, @BB5Foundation, and Mambos Cuban Cafe for delivering all of this food to the officers that have been working the recent tragedy. It's been a long couple days and we are so appreciative for your kindness. Thank you. pic.twitter.com/pd4n4FHBKI

— Jax Sheriff's Office (@JSOPIO) August 28, 2018
In response to Bortles' kind gift, the officers thanked the quarterback and his foundation, admitting that it had been "a long couple of days."
Even though officers continued to thank the quarterback for his generosity, his foundation continued to deflect the gratitude back onto the officers, IJR.com.