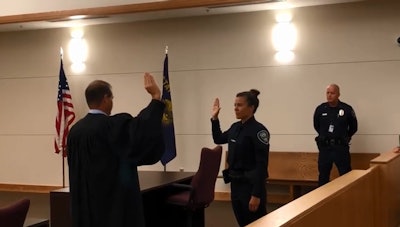 When gunfire erupted at the Route 91 Harvest Country Music Festival in Las Vegas last October, Lauren Card fled from the sounds of the guns. Now, she has sworn an oath to run toward danger to protect others as a member of the Springfield (OR) Police Department.
According to the Register Guard, Card had been in attendance at the concert with her mother and other family and friends when a gunman opened fire from an upper-story window of the Mandalay Bay hotel.
They fled, but Card took note of how the police officers were running in the opposite direction—toward danger in order to stop the gunman.
Card resumed college classes just two days after the shooting. Now, the 23-year-old is a recent graduate of Oregon State University, and a newly minted officer with Springfield PD.
The department posted a brief video of her swearing-in ceremony on Facebook.