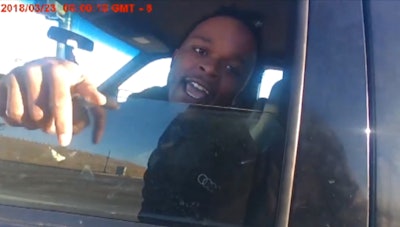 VIDEO: Colorado Officers Suspended for Leaking Video of Man's Traffic Stop Tirade
When Aurora, CO, police pulled over a man for driving 65 miles per hour in a 50 mph zone, they probably didn't know that the driver was the son of Denver Mayor Michael Hancock. But in an expletive-filled roadside tirade, 22-year-old Jordan Hancock made them fully aware of the relationship.
The entire interaction was captured on the body-worn camera affixed to Officer Paul McClendon's uniform.
According to Fox News, McClendon showed the video to Officer Paul Timmons, who recorded it with his cellphone and shared it with Officer Judy Gurley-Lutkin.
Now, Timmons and Gurley-Lutkin have each received a one-day suspension for the video being leaked.