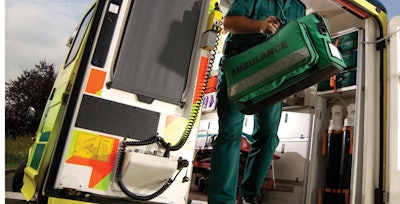 Traka will be at The Emergency Services Show, unveiling its latest intelligent systems for securely storing and controlling access to vulnerable keys and vital equipment, including the latest body-worn camera technology.
On stand L47, Traka, known for its intelligent key cabinets and locker solutions, will show how its bespoke systems are being utilized by the Emergency Services to better manage equipment, valuables, and sensitive material.
At the show, Traka will be demonstrating how its innovative Modular Locker system has evolved to reflect the increasing use and need for secure, audit control storage by the Emergency Services for body-worn camera scanners.
Visitors to the stand will also be able to see Traka's specialist S-Touch Key Management system, presenting storage in a controlled access environment with full audit control capability, where items are charged and instantly ready for use.
Says Wayne Kynaston of Traka: "The introduction of body worn camera technology to improve safety, primarily for the Emergency Services, has been well-documented. But it is essential the equipment is secured not only in a safe environment but also to ensure they are available for instant use in a fast-moving situation, including being fully charged.
"At The Emergency Services Show, Traka will be able to demonstrate how we continue to work closely with the Emergency Services to ensure the right response to protect the significant investment. Our systems can be adapted to suit individual Service requirements, including presenting full audit trail capability to add a level of protection to vulnerable staff in their working environment."
Traka provides intelligent key management and equipment management access control to better protect important equipment, resulting in improved security and efficiency, reduced downtime, less damage, fewer losses, lower operating costs, and significantly less administration.
To find out more, visit Traka's stand L47 at The Emergency Services Show, taking place Sep. 19–20 in Hall 5 at the NEC, Birmingham or visit www.traka.com.