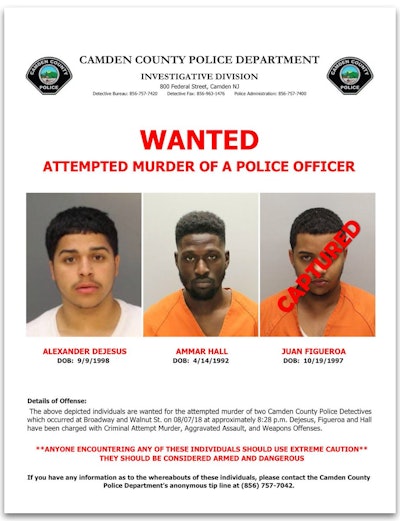 The Camden County (NJ) Police Department said in a Tweet that they have captured one of the three men wanted in connection with the ambush attack on two plainclothes detectives — a male and a female — as they sat in their SUV last week.
The agency said on Twitter that 20-year-old Juan Figueroa had been captured. Figueroa and the other two suspects have been charged with attempted murder, aggravated assault, and weapons offenses.
The male detective reportedly suffered wounds to the bicep and forearm. The female detective — who has served more than four years — was struck in the hand, according to NJ.com.
Both detectives have been released from the hospital and are recovering from their injuries.
The agency said on Twitter that they are closing in on the other two suspects and "won't sleep until they are in cuffs."