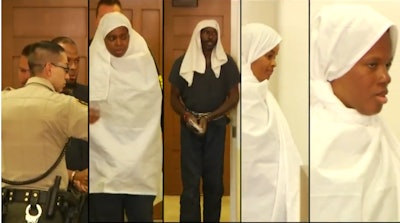 VIDEO: 4 New Mexico Compound Suspects Granted Bail, Prosecutors Allege Terror Plot
State prosecutors' motion to detain five adults arrested on a variety of charges and implicated in an alleged terror plot in northern New Mexico earlier this month was denied by a judge on Monday.
Judge Sarah Backus made the determination, saying the state failed to meet the burden of showing the suspects were a danger to the community following several hours of testimony and evidence being presented by prosecutors. Siraj Wahhaj, Hujrah Wahhaj, Lucas Morton, Jany Leveille and Subhannah Wahhaj each face 11 counts of child abuse after 11 children were found living in deplorable conditions at the site.
Siraj Wahhaj is wanted in Georgia and being held for possible extradition. The other four suspects will have a $20,000 signature bond – meaning they'll have to pay that amount if they don't show for their trial – and will have to wear ankle monitors. In addition, they will not be allowed to leave the country, and any visits with children will be supervised, KOB reports.
State prosecutors outlined evidence suggesting that at least some of the suspects could have been planning some sort of attack. They said Siraj Wahhaj – who also faces child abduction charges from Georgia after allegedly taking his 3-year-old son – took several weapons classes before coming to New Mexico, and books found on the compound focused on how to build firearms at home.
The children at the compound were allegedly taught how to load and fire semi-automatic rifles.