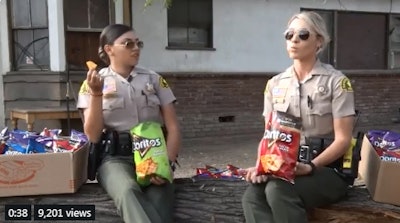 A short video of two deputies with the San Bernardino County (CA) Sheriff's Department luring a wayward pig to safety by luring him with Doritos went viral after it was posted to social media two weeks ago.
Now, they have been rewarded with snacks from Doritos.
Highland Station received a call regarding a pig "the size of a mini horse" running around the neighborhood. Deputies Shelly Ponce and Ashleigh Berg found the animal—named "Smalls"—and due to previous calls, knew where he lived.
"They lured him back home with @Doritos one of our deputies had in her lunch bag," the Instagram post said. "They made a trail and he followed."
Doritos learned of the good deed done using their snacks, and sent a massive delivery of assorted Doritos flavors to the station.
Deputies Ponce and Berg recently made another video, this time thanking Doritos for the kind gift.
In the video, the two deputies munch on chips and wonder whether or not to share them with the rest of the department, all while contemplating their newfound Internet fame.
"So, is this your first time going viral?" Berg asks Ponce in the video.
"Yup," Ponce replies. "Do you think we're supposed to share these with everyone at the station?"
They refer the question to "Smalls"—whose grunts they interpret as a "no."
In a Tweet of the video the deputies said, "Thanks for the snacks @Doritos!"
They added, "P.S. we did share them with the troops."
Thanks for the snacks @Doritos!

P.S. we did share them with the troops. pic.twitter.com/hQOLYje6WO

— San Bernardino County Sheriff (@sbcountysheriff) November 2, 2018