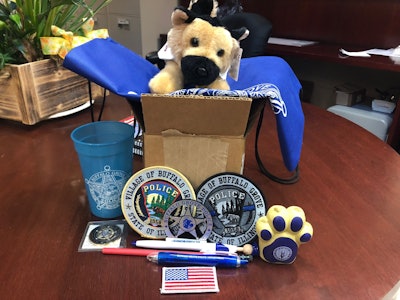 An Indiana boy battling cancer wants police officers from across the country to send him one of their patches.
According to WTTV News, 12-year-old Jeremiah Derks was diagnosed with cancer in July and is currently going through chemotherapy following surgery.
Jeremiah had received a visit from Howard County sheriff's deputies, making him an honorary deputy at the time. Then, a Kokomo police officer stopped by Jeremiah's home and delivered a police patch.
That little gesture sparked an idea to build a collection of patches. Jeremiah's mom posted the thought to Facebook, and soon the family started seeing patches flooding in.
The Buffalo Grove (IL) Police Department posted an image on Facebook of the "care package" they assembled, containing three versions of the agency's patch, a plush K-9, an American flag patch, a challenge coin and numerous other items.
The department said in the social media post, "The Buffalo Grove Police Department learned of a request from a 12-year-old Indiana boy named Jeremiah Derks, who was recently diagnosed with a rare form of bone cancer. Due to his strong interest in law enforcement, Jeremiah has been reaching out to different police agencies and requesting that they each send him a patch to add to his collection. Buffalo Grove Police prepared a care package, which included the Department's patch, in addition to a number of other items for Jeremiah."
Anyone wishing to send Jeremiah a police patch or card can mail those items to:
229 Luke Court
Kokomo, Indiana 46901