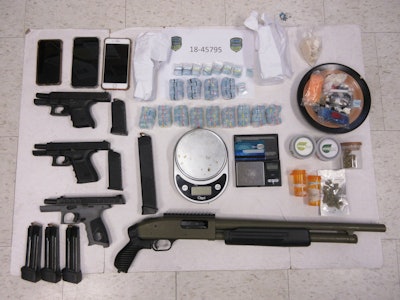 Officers with the Upper Darby (PA) Police Department were serving a warrant on a man wanted for parole violations when they discovered a stash of $10,500 in cash, more than 1,000 bags filled with drugs and a number of firearms.
The man—identified as 33-year-old Emanuel Lewis—now faces almost 30 new charges for drug and weapons offenses.
According to the Delco Times, Lewis now faces three felony counts of possession with intent to deliver, and corresponding felony conspiracy charges, plus three misdemeanor counts each of possession of a controlled substance, use/possession of drug paraphernalia, and possession of firearm prohibited, which all carry conspiracy charges as well.
Lesser charges of receiving stolen property and possession of a small amount of marijuana have also been filed.