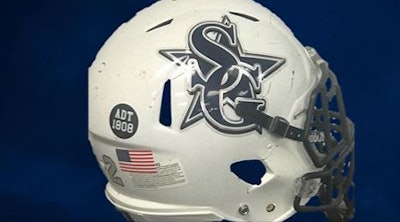 Football players with South Gwinnett High School in Georgia will add stickers to their helmets reading "ADT1808"—the initials and badge number of Officer Antwan Toney, a member of the Gwinnett County Police Department who was recently killed in the line of duty.
The team will wear the stickers for the remainder of the 2018 football season, according to the Atlanta Journal-Constitution.
"In memory of his dedication and service to our community, the football team will celebrate his life and what he gave back to our area," the team said in a statement. "Officer Toney was taken from us as he protected a Gwinnett County Public School last week, doing a job he loved."
Toney, 30, was killed while responding to a suspicious vehicle call near a school. The alleged shooter—18-year-old Tafahree Maynard—was killed in a confrontation with police following a two-day manhunt.