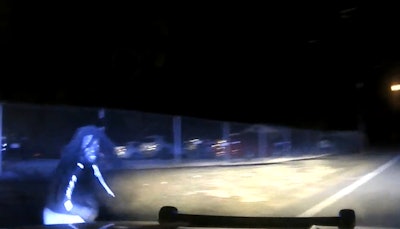 VIDEO: Georgia Police 'Bump' Armed Robbery Subject with Squad Car During Pursuit"
A chief of police in Georgia is defending the actions of his officers following public criticism of a dash-camera video showing an officer using his patrol vehicle to stop an armed robbery suspect fleeing on foot.
Officers with the Chamblee (GA) Police Department responded on Monday to an armed robbery at a pharmacy just seconds after the crime had been committed.
The suspect was quickly spotted nearby on foot and was ordered to stop by police. He disregarded these commands and fled on foot toward a neighborhood.
An officer gave chase on foot while another drove up and—knowing the clear threat presented by the armed suspect—bumped into the offender with his squad car.
The offender was not seriously injured and was arrested in possession of a Glock .45 caliber handgun, a ski mask and the stolen cash, the agency said.
"There is no longer an active investigation into this incident. While the video is certainly dramatic, the use of force was needed to stop the perpetrator," said Chamblee Interim Chief of Police Mike Beller said in a statement. "This individual posed an imminent threat to officers and the public at large and was fleeing toward a residential area while armed with a handgun and having just committed a violent felony."
The offender—identified as 24-year-old Rodney Garvin—has been charged with armed robbery, obstruction, and possession of a firearm during the commission of a crime.