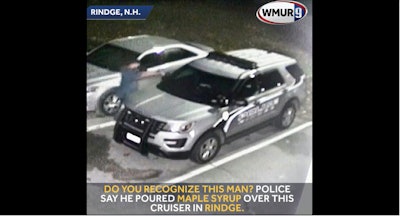 A Rindge (NH) Police Department squad car was vandalized this week by a man who poured maple syrup all over the vehicle.
In surveillance video obtained by WMUR-TV, the man can be seen circling the vehicle several times, pouring syrup as he goes.
The man is also believed to be connected to other strange acts of vandalism in the small town on the Massachusetts border about 30 miles west of Nashua.
Rindge police said a couch was set on fire, trash cans were thrown around, and a church sign was vandalized, according to WMUR.