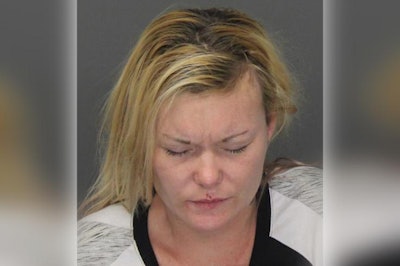 A Michigan woman was arrested after refusing to leave her boyfriend's home and, when confronted, punching a police officer, attempting to grab the officer's gun, and eating a pair of earrings, police say.
Troy Police were dispatched at around 10:30 p.m. on November 24 to a home and found an "intoxicated and uncooperative" Sylvia Hope Verellen, age 33, Newsweek reports.
The homeowner's son reportedly became upset after the allegedly drunk Roseville woman, his girlfriend, had taken jewelry that belonged to his mother, who had passed away. When officers attempted to escort her from the residence she punched one in the side of the face.
On Twitter, Troy Police wrote on Tuesday: "A Troy officer was assaulted while arresting a woman for trespassing. She punched him, and then tried to grab his gun. The suspect, once in our lock up, punched a police service aide. The officer and service aide are OK, thankfully."
During booking, the suspect admitted that she had eaten a pair of earrings that belonged to the complainant. The suspect was then taken to the hospital where the earrings "were retrieved."