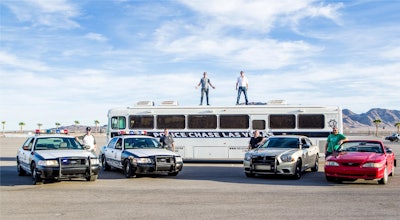 Anything is possible in Las Vegas, apparently. Visitors can now engage in "mock" police pursuits at a new attraction being promoted by the Las Vegas Motor Speedway.
According to Las Vegas Now, the attraction allows people to participate in a simulated vehicle pursuit just a few miles from the Las Vegas Strip.
Damian Sheets, co-founder of Police Chase Las Vegas, describes it as an adrenaline rush of a lifetime.
The driving instructors for the attraction are reportedly retired police officers.
Visitors can choose from one of about two dozen patrol vehicles as they learn how to perform a PIT maneuver, among other police driving skills.