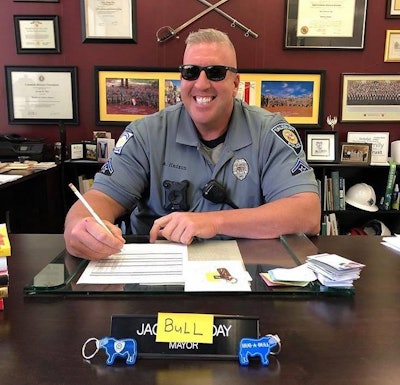 The Mayor of Salisbury (MD) has ordered flags flown at half-staff after the off-duty death of Master Police Officer Aaron "Bull" Hudson in an apparent suicide.
Mayor Jacob Day said on Facebook, "From Third Friday to National Night Out to his daily patrol, Bull has been a familiar face within the Salisbury Community who was known for his outgoing personality. He had a charisma that could bring a smile to your face as he brightened the day of all he came into contact with. Officer Hudson embodied the quintessence of what it means to be a public servant as he was more than a government official, he was a liaison helping to strengthen relationships between our community and law enforcement."
The mayor added, "As we take the time to reflect upon Officer Hudson's legacy and remember his service to our community, let us also keep his wife, Heather, in our thoughts."
The department said in a Tweet that it is "never too late" to help, adding the suicide prevention hotline to the message above an image of the agency's badge draped with a black band.
The City Park fountain will be illuminated in blue for the remainder of 2018 in awareness of suicide prevention and to pay tribute to the life.