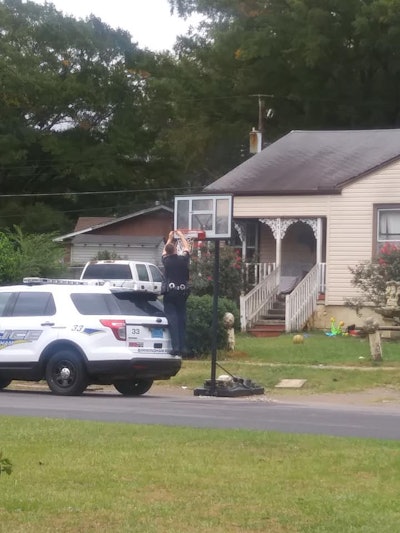 An officer with the Birmingham (AL) Police Department was seen standing on the rear bumper of his patrol vehicle, affixing brand new basketball netting for a hoop in front of a home in a west end neighborhood.
Neighborhood resident Rhaquel Ryans posted images and a video of the act of kindness on her Facebook page, saying in the post, "We have great officers. He not only put up a new net but also got them a new ball as well."
When managers at a nearby sporting goods store learned of the kind deed performed by Officer Chris Lassinger, they gifted him a $500 shopping spree so that he may continue his good deeds of bringing joy to children.
Lassinger said he didn't give those kids a basketball and new netting to garner attention for himself. "I should have done it at night,'' he told AL.com.
"We get in this profession for a reason, to help people," Lassinger said. "If me doing stuff like that changes those kids' mindsets about police then I'm doing my job. The more people we can affect in a positive way like that, the better it will be for us and them."