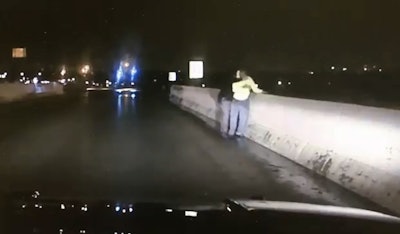 The Franklin County (OH) Sheriff's Office released dramatic dash-camera footage of an incident on December 2 during which Deputy William Ball quickly grabbed a man as he attempted to jump off an overpass.
The video—which can be seen on the agency's Facebook page—shows ball as he slowly approaches the man, who is standing close to the guardrail of the bridge.
Deputy Ball had seen the man as he passed in his patrol vehicle. Ball stopped, backed up, exited his car and began speaking with the man.
"The male then began to open up and talk with Deputy Ball about feelings he was having about wanting to harm himself," the agency said on Facebook. "The male then suddenly began walking toward Deputy Ball stating that he would have to shoot him to get him to stop from jumping."
"I'm sorry, I got nothing left," the man said. "I'm just done."
He then attempted to jump over the wall, but Ball was able to grab the subject and pull him back onto the roadway.
A struggle ensued, and two bystanders stopped their vehicle and came to Ball's assistance.
"We would also like to thank the two civilians who stopped and assisted before backup arrived," the agency said.