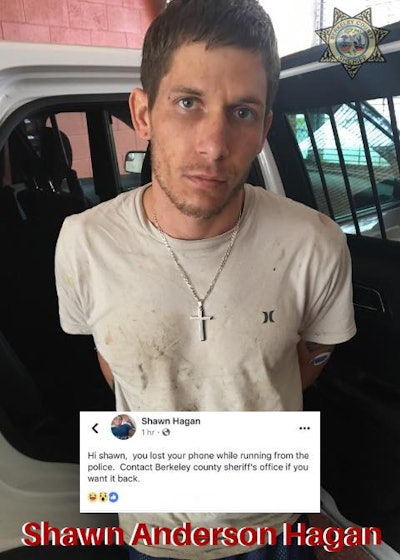 Deputies with the Berkeley County (SC) Sheriff's Office used a little humor to let a man who ran from them late last week know that they're aware of his identity, and will probably have him in custody soon.
The agency found the mobile phone belonging to Shawn Hagan after he reportedly fled police on foot. They used the phone to access his Facebook page, posting a message "Hi Shawn, you lost your phone while running from the police. Contact Berkeley County Sheriff's Office if you want it back."
The department also then posted the same message to its own Facebook page, following up with an additional message asking citizens to help locate Hagan.
On Saturday, the agency posted, "Thanks to the many tips we received on Facebook, Berkeley County deputies were able to apprehend 30-year-old Shawn Anderson Hagan. Deputies were searching for Hagan after he fled yesterday. Today, Hagan fled from deputies again — but this time he was caught. Hagan will be facing charges for the initial fleeing as well as drug charges."
The post ended, "#DontBeLikeShawn."