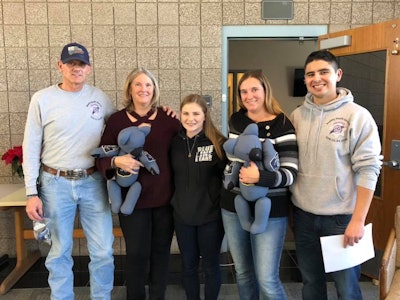 A young woman wanted to do something for the friends and family of Heath Gumm, the Adams County (CO) Deputy who was killed in the line of duty just under a year ago.
So she made 15 stuffed bears adorned with the agency's patch and Gumm's name.
According to Fox News, 16-year-old Megan O'Grady came up with the idea for "Blue Line Bears" after the 2016 ambush in Dallas in which five officers were shot and killed.
"My dad is a police officer where we live. It's my biggest fear to lose him. That's why I started it. My whole life, I have been close to police officers, they've always been my heroes," O'Grady said.
She asks the department for a uniform shirt from a fallen officer, and crafts the bears from the fabric.
O'Grady's visit to Colorado was not the first time she's delivered bears to the friends and family of a fallen officer. So far, she has delivered 450 bears to law enforcement families in 31 states.