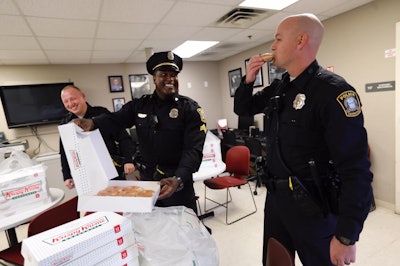 When a social media post by the Lexington (KY) Police Department—showing officers appearing to be crying after fire destroyed a Krispy Kreme Doughnuts delivery truck—went viral, the confectioner company sent a message via twitter to the agency.
"We're thinking of you during this difficult time...and have more doughnuts on the way!" the company said on Twitter.
On Wednesday, the company delivered on its promise. Boxes and boxes of the doughnuts were deposited in the squad room, where dozens of officers delighted in the gesture.
Lexington PD posted on its Facebook page, "The Lexington Police Department has been blown away by the positive messages and support received in the wake of the New Year's Eve Doughnut Truck Fire. The impact of that tragedy was felt not just across the country, but around the globe. We are grateful to so many who helped ease the pain of a doughnut-sized hole in our hearts."
The agency added, "And of course, Krispy Kreme Doughnuts. Your delivery of fresh doughnuts provided a sprinkling of joy at the East Sector police station, filling officers with joy and warming our souls. Thank you."