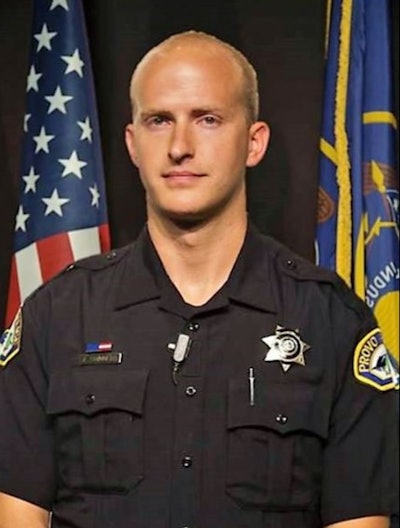 A Provo, UT, police officer was shot and killed Saturday night in Orem while attempting to arrest a fugitive who reportedly had been threatening violence toward law enforcement.
The suspect, a 40-year-old man, was wounded in the shooting, Provo police Detective Nick Dupaix told the Salt Lake Tribune, and is being treated at Utah Valley Hospital — the same hospital where 29-year-old Officer Joseph Shinners died from his injuries.
The suspect is under guard at the hospital and will face multiple criminal charges, possibly including aggravated murder of a police officer, Orem Police Chief Gary Giles said at a Sunday news conference.
Officials said they were not going to identify the suspect Sunday. The focus, they said, should be on honoring Shinners, a three-year veteran of the force who leaves behind a wife and 1-year-old son.