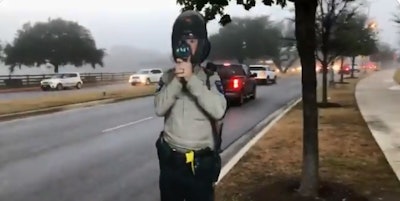 The Williamson County (TX) Sheriff's Office has deployed life-sized cardboard cutouts of officers holding radar guns in an effort to reduce speeding on surface streets.
The agency posted a video on Twitter of one of the paper-thin replicas saying, "There he is. Deputy Wolf working in a school zone… Watch out for Deputy Wolf."
They invited followers on Twitter to tell them where other cutouts could be positioned.
One community member said, "I'll take one for front of house! How much?"
Another said, "I love that idea! It will only work short term once people start figuring it out."
The real-life Deputy Wolf replied, "And then we'll sit there for real."