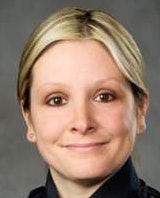 An officer with the Boardman (OH) Police Department has succumbed to a brain tumor, according to WKBN-TV.
The agency said on Facebook, "It is with our deepest sorrow that we inform you of the death of Boardman Police Officer Heather Dobbins. Heather passed away Friday morning at the Cleveland Clinic after a brief illness. Heather joined the Boardman Police Department in January 2003 and served with distinction for sixteen years. Heather will be remembered for her dedication to the community, professionalism, and above all her kindness that she displayed on a daily basis. Please keep Heather and her family in your thoughts and prayers."
Image Courtesy: Boardman Township Police Department / Facebook.