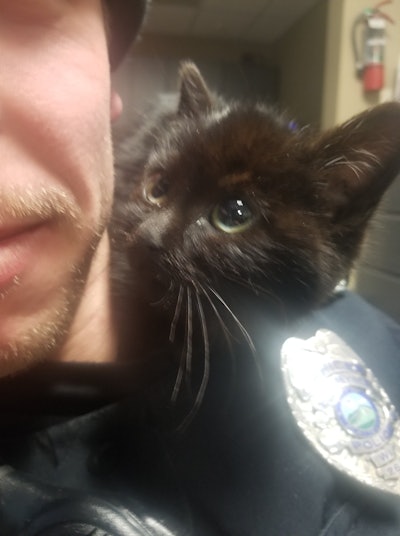 An officer with the Platteville Police Department has adopted a kitten he had rescued from a ditch filled with snow.
The department posted on Facebook, "While checking out the blood moon tonight, Officer Froiseth heard a kitten meowing loudly near Business Hwy 151. Upon closer inspection, he discovered the meowing coming from a ditch that had drifted over with about 3 feet of snow. Officer Froiseth traversed the ditch and found this little one stuck in the snow and rocks. He then brought the kitten back to his warm squad car, and the little guy curled up just like in the pictures, and hasn't left his side."
Froiseth took the animal to a nearby veterinarian to have it examined. When it was found to be in good health, Froiseth elected to adopt the cat.