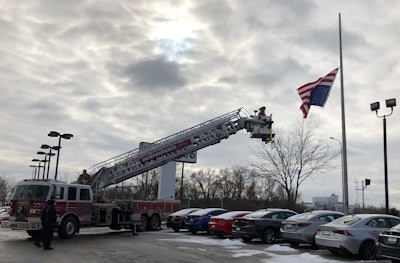 An officer with the Independence (MO) Police Department was on patrol when he noticed that the top part of an American flag had come apart from the flag pole it was flying from, causing the stars and stripes to fly upside down.
After clearing the call he was dispatched to, the officer contacted the business where the flag pole was located but they said they would not be able to make a repair until Monday.
The department said on Facebook, " As a U.S. Air Force veteran and longtime member of IPD's Color Guard, this wasn't soon enough for Officer Wehlermann. He reached out to Independence Fire Department's Pumper 2 and Truck 2 who were happy to assist with fixing the flag. Thank you Officer Wehlermann and our partners at IFD."